Only
to take advantage of this exceptional offer!
You can not find it in store
Shipping within 24 hours
International delivery

FREE
30-Day Money Back Guarantee
people are currently looking at this product
Current orders
---
Learn to Build Amazing Robots and Do a Different Activity with Your Children and the Whole Family

The Solar Robot allows assembling 13 models of robots that move on land and water.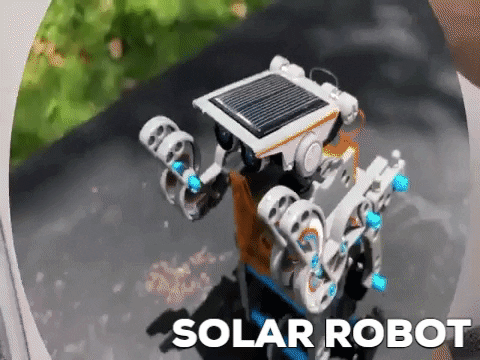 Related image Perfect Toy to encourage learning of mechanics and engineering
  Related image Perfect for improving science, technology and mathematics skills
Related image Encourages power of invention and robotics
  Related image Provides hours of educational activities
Related image Helps develop manual dexterity and problem solving skills

  Related image Improves logical thinking and self-confidence
Related image Promotes the importance of teamwork and collaboration
  The robot moves towards sunlight, making it available for children to use their imagination to the fullest.

  The assembled robots guarantee a lot of fun, with funny and functional movements. All parts are robust and durable, made of harmless and non-toxic PREMIUM quality ABS plastic.

 It includes a solar energy panel that collects the heat energy from the sun in an electric drive motor, which drives the gears to make the motor run smoothly.
Related image Powered by the Sun
Related image Money saving with batteries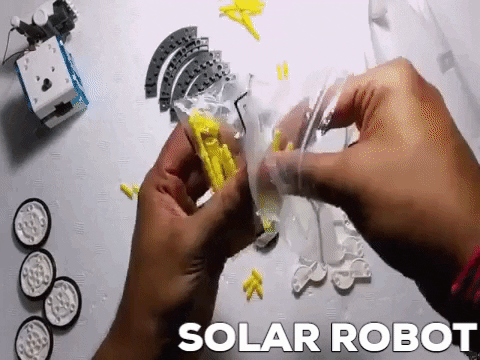 The kit allows two skill levels for robot model assemblies:

Related image Level 1: Design for beginners
Related image Level 2: Project for those at a more advanced level
  Very easy and practical to build, we will send the illustrative step-by-step guide for children and adults to assemble the 13 models.
Related image Each model has its own name, for those who are assembling and having fun to mentalize and know the difference from one to another. (especially children)
  Excellent complement to a curriculum, a great educational kit that encourages invention, mechanical concepts and a great way for children to play and understand this world of robotics.
See who has already purchased and approved Solar Robot 2021:
 As the saying goes, "Our children are the future" And if anything is certain about this future, it is that renewable energy sources and green technologies will play an important role in our children's lives.
  Related image It is ideal for all ages from 10 years upwards, minor children should have the help of an adult
  Related image The source of energy is sunlight, no need to use batteries
  Related image Robot assembly is easy and stimulates learning and creativity
  Related image In no way is it suitable for children under 5 years of age because it contains small parts
It goes with it:
01 Illustrative Manual
01 Set of accessories
01 solar pane
01 solar pane
HIGH DEMAND AND PANDEMIC SITUATION!
Due to the extremely high demand and actual pandemic situation , orders take on average between 14 and 25 working days to arrive at their destination. Please be patient, we do our best to fill every order we receive!
---